Remember me? Me neither.
Since we last spoke I've somehow moved house twice, graduated university and done costumes for my first Fringe show(s). I'm a real life adult with two (and a half) proper grown-up jobs now and living that millennial side hustle life like I was born in 1992 (which I was). Sadly my own personal sewing got lost on the way a little. That isn't to say I haven't been sewing. The occasional blouse and A-line skirt (I know *yawn*) has made its way into my closet and I'm still committed to making more, buying less. But…let's be honest, as thrilling as my sewing prose may be, there's only so many A-line skirts a dear reader, such as yourself, can look at. …she says into the deafening abyss of silence.
I'm carefully inviting my personal sewing mojo back in the room. My mama would pull out her Tibetan singing bowls at this point to gently usher myself back into the sewing gods' good graces. However, since one of my main forms of procrastination involves click-bait listicles on, "5 ways to get effortless French Girl style!" and "Top 10 1920s haircuts that would make Gatsby swoon!" and "17 ways the world is a bottomless cesspit of terrifying political discourse and ahhhhh!!!" I give you…
MY TOP 5 PROJECTS FOR SELFISH SEWING BLISS*
1. My first Dig for Victory Dress
I've been working as a studio assistant for this lovely independent, vintage inspired sewing shop for almost a year now and besides my boss kindly making up a pattern for this Nina-shaped body last Christmas I still haven't gotten the chance to sew it for myself. The plan so far is to use a lovely striped navy, 1940s rayon we have in the fabric cupboard. I'm seeing a high neckline, some floating sleeves and, surprise, surprise, an A-line skirt in its future.
Status: fabric in stash, pattern ready, must figure out skirt pattern. Oh, and make the damn thing.
2. Pauline Alice's Lliria dress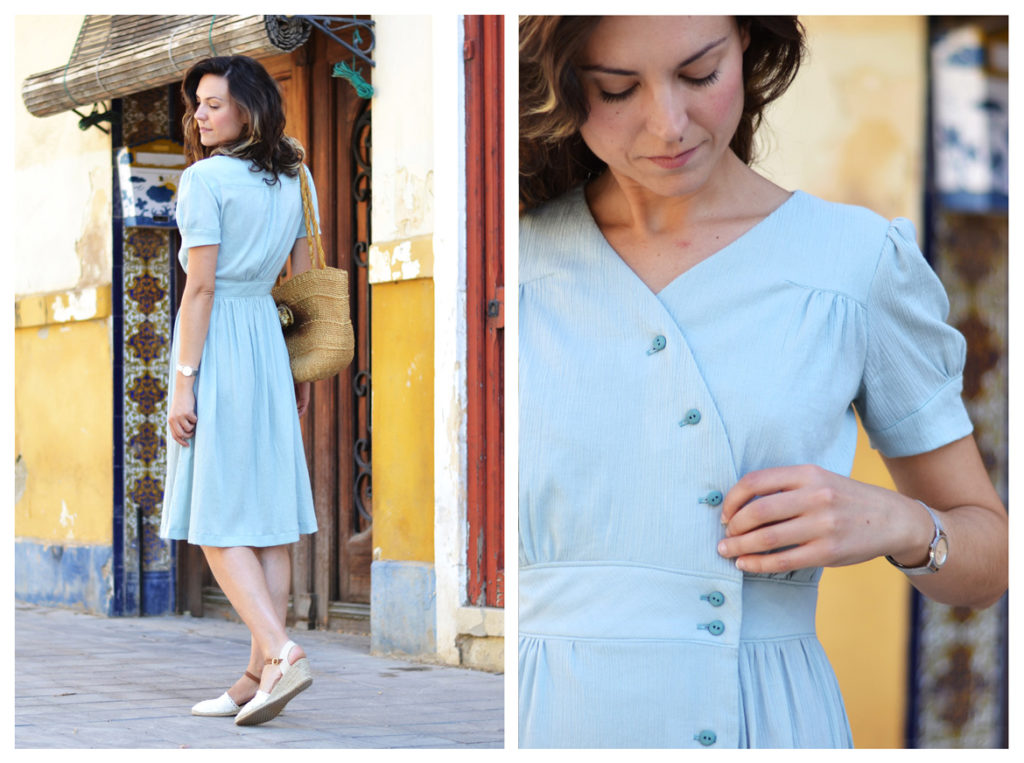 Little girl me was raised on a never-ending stream of Audrey Hepburn movies. This has filled me with two core beliefs about adulthood. 1. When a girl cuts her hair she grows up to be a sophisticated woman. 2. When a girl comes back from Paris she grows up to be a sophisticated woman. The former is a theory I continue to disprove to myself through every pixie haircut I get. The latter I have never tested, but this would be my Paris dress. While I dreamily flip through guides on hidden Paris and long to explore Anais Nin's and Henry Miller's old haunts I will sew up this a-symmetrical, 40s inspired dream in a pale, blue Irish linen I scored a few months ago. Who knows, it may end up, "a real Paris dress," after all.
Status: fabric in stash, pattern printed
3. Brijee's Linden Lady
Two years ago I found a pair of floating, gauze-y palazzo pants while frustratingly trying to shop in Spain with my family. It feels downright stupid to talk about a pair of trousers changing my life (see above re: political cesspit of hell) but…these certainly did change how I move through the world. No longer do I consider a dress the height of glamour. Give me liberty and bodily autonomy…or at least give me some swishy palazzo pants!
The Linden Lady is one of those patterns I've owned for ages but always put off making. If this doesn't fulfill my palazzo shaped dreams I will most likely self-draft something that will cause me to lift off with a gust of Brighton air.
Status: I own the pattern. That's a start!
4. Embroidery Hoop Organiser
I know there's a 1 time maximum mentioning your mother rule on every blogpost, but MY MOTHER gave away a butt load of embroidery equipment a mere month prior to both my sister and I being like, "Maaaa! Do we have any embroidery stuff," she will thus want to rip my head off for this one.
One of the fun side effects to having moved into my first apartment that has always, and will always, be occupied by only me, me, me is that I have turned half my living room into a proper studio space. The only thing missing so far is unpacking my millinery boxes and hanging some inspirational images on the wall. Please visualize photographs of a white cis-man standing at the foot of a mountain (of alterations) here.
Inspirational images aside I'll be making some of these darn cool organisers. Once I've raided every charity shop in the area for embroidery hoops. Goodbye to the days of trying to find an unpicker. Oh, and that one favourite needle (it lives next to that one favourite hair tie).
Status: I own one embroidery hoop and enough scrap fabric to clothe the Queen of England for a year.
5. Jennifer Lauren's Gable Top
I'm scared of sewing with knits. There. I said it. It seems impossible and insurmountable and so damn silly, because I know that once I get the hang of sewing tops like this I'll be able to roll out the stripes faster than you can say, "Breton tops are another French stereotype!"
Jennifer's cable top seems like an ideal candidate for me to tackle some of those knits that keep making their way into my stash.
Status: I have the fabric. I need the pattern. And the courage.
Right, that concludes the list that is meant to kick Miss/Mr./Mx. Sewing Mojo's butt back into gear! Please feel free to send me annoying Instagram messages asking for progress updates on the above. Not gonna lie, like every "artiste" I thrive on validation and am more likely to write more if you interact more.
Gruss und Kuss,
Nina
p.s. This post contains a lot of other people's photos. Clicking them will take you to their websites and give you opportunities to support independent pattern makers!
*I cannot be held responsible for pin-cushion throwing and tears. Do not sew while hungry.